Discussion Starter
·
#1
·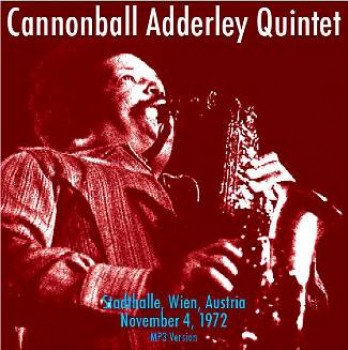 CANNONBALL ADDERLEY QUINTET
Live at the Stadthalle, Vienna, Austria
November 4, 1972.
Excellent FM broadcast!!
MP3 @320
with artwork added
From the Miles Davis sextet in 1959 to appearing on the Kung Fu TV series in 1975; and even getting a tribute by Joe Zawinul on Weather Report's Black Market album, that's a big arch for anyone, but probably all in a day's work for Cannonball Adderley.

This is a fine electric jazz show from a finely-honed unit. Keyboardist George Duke has some stellar moments on Black Messiah while Cannonball's brother, Nat, gets to shine on Hummin'. Meanwhile, Soli Tomba entrances with its Asian feel. For those not familiar with this show (seems well circulated among Cannonball fans), you will be easily tempted to leave it on repeat mode.

Thanks to Dan Augen who shared the tracks on the net back in 2006.
Track List
01. Band introduction by Kurt Votava 0:39
02. Black Messiah 19:16
03. Hummin' 10:03
04. Soli Tomba 5:17
05. Directions 4:35
06. Mercy, Mercy, Mercy 3:18
07. The Scene 0:55
Total Time – 43:59
Lineup:
Cannonball Adderley - alto sax
Nat Adderley - cornet
George Duke - piano
Walter Booker - bass
Roy McCurdy - drums
password: cannonball
Code:
http://www.embedupload.com/?d=3GYWNXFTYE
Alternate Links:
Code:
http://depositfiles.com/files/cxu7qhfz3
Code:
http://www.share-online.biz/dl/UOJ97HCM7Z
[/hide]