Discussion Starter
·
#1
·
JEAN-LUC PONTY
LIVE IN HAMBURG (1976)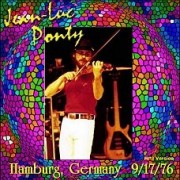 genre: Jazz Rock/Fusion
MP3 @320 CBR
artwork added
"an Unauthorized recording"
from torrent
disc 1
File size: 147.97 MB
disc 2
File size: 87.55 MB
Live in Hamburg, Germany, September 17, 1976. Excellent FM (re-)broadcast.
This concert is from the 'Imaginary Voyage' tour.
EXCELLENT SOUND!! :brittish:
Jazz fusion by itself is already a vast field. Violin jazz fusion might narrow things down somewhat and Jean-Luc Ponty stands out among its practitioners. Ponty might have been trained in classical music but under the influence of Miles Davis and John Coltrane, he switched to jazz and for someone who has played on John McLaughlin/Mahavishnu Orchestra albums, he certainly needs no introduction. And anyone who is endorsed by Frank Zappa is certainly worth at least a listen.

Thanks to tgb25nld who shared this very good FM (re-)broadcast on the Dime site. And tgb25nld is not off the mark when he noted: "Here is a truly spectacular set from JLP with Steurmer (g), Fowler (b), Craney (d) and Zavod (kbd) that will melt your speakers and intoxicate your mind."

The mid-'70s was a fruitful period for Ponty. He had released Aurora in December 1975 and barely six months later, he released Imaginary Voyage and fans simply lapped up the selections he played at this 1976 Hamburg show.

This is certainly not drive-time fusion or jazz for lounging in the afternoon. This is fiery red-hot fusion with Ponty attacking the music with a vengeance. One can only wonder what demons he was trying to exorcise. - from Bigozine blog.
Track list:
------- CD 1 ----------
1. Is Once Enough
2. Polyfolk Dance
3. Lost Forest
4. Aurora
5. Renaissance
6. Question with No Answers
--------- CD 2 ------------------
1. Passenger of the Dark
2. Bowing-Bowing
3. Tarantula
4. Wandering on the Milky Way
5. Fight for Life
Line-up:
Jean-Luc Ponty (violins)
Darryl Stuermer (guitar)
Tom Fowler (bass)
Mark Craney (drums)
Allan Zavod (keys)
*NOTE
: This recording was taken from a different source than the one from the Bigozine blog. This is the 320 version, not the 192 version offered from that blog. However, the artwork was taken from that blog since the original download I got had no included artwork.
Many thanks to the original uploader!! :77:
rapidshare:
Code:
http://rapidshare.com/files/457187255/itemJ-LPH3201976D1.rar
Code:
http://rapidshare.com/files/457189834/itemJ-LPH3201976D2.rar
mirror
megaupload:
Code:
http://www.megaupload.com/?d=78AC5JUD
Code:
http://www.megaupload.com/?d=XWSA70IQ