Discussion Starter
·
#1
·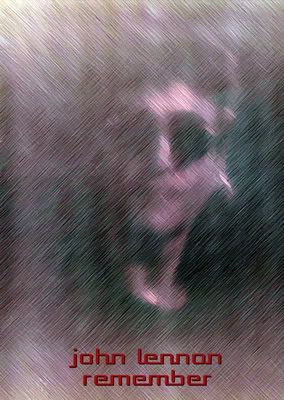 Publisher:
MCP
Reference:
MCP-101
Date:
2008
Artwork
: Click on the poster to enlarge
Video: NTSC 4:3, 720x480, 29.97 fps, 6212 Kbps
Audio: MPEG-2, 2 channels, 48 KHz, 384 Kbps
VHS (unless noted by *) -> Creative Labs Audigy 2 Video Editor -> TMPGEnc DVD Author Pro -> Here
Disc 1
1. David Frost: Interviews I'll Never Forget
Eye On People Channel, 1997
Excepts from John's Frost interviews from 68, 69 & 72, plus excepts from Paul's 1997 interview.
2. Time & Again
MSNBC
Draws mainly on the Tom Snyder interview from 1975, but also has brief newsfootage.
Disc 2
1. WABC-TV New York Live Broadcast from the Central Park Vigil, December 14, 1980.
Includes interviews with Sid Berstein, Cousin Brucie & Norm N. Nite.
I had gone to the vigil that morning so I set the timer on my VCR. The tape has not held up very well, and I really do not like to watch anything having to do with John's death, but looking back now, the vigil was an event in Lennon history worth immortalizing on DVD.
2. Silence still resonates for writer
(from the Arizona Republic newspaper, Dec. 4, 2005)
NEW YORK, Dec. 14, 1980 - More than 100,000 people fell silent for 10 minutes at the vigil for John Lennon six days after he was slain in front of his home.
New York was cold and dreary. The streets were strangely quiet; the whole city was in mourning.
At 2 p.m., as Central Park settled into silence, one man yelled, "We have to stop the madness of handguns, people!" Twenty-five years after two friends and I drove seven hours from Ohio to New York to channel our grief over Lennon's Dec. 8 death, the emotions remain. For 16 years, we had watched Lennon mature from a smart-alecky 24-year-old on the Beatles' 1964 U.S. tour to a mustache-wearing, pot-smoking member of Sgt. Pepper's Lonely Hearts Club Band in 1967 to a 40-year-old parent who was "starting over" in the music business.After hearing that his widow, Yoko Ono, had called for 10 minutes of silence that Sunday "to pray for John's soul . . . wherever you are," there was no doubt we'd make the pilgrimage.
On this December weekend, the sidewalk in front of the Dakota, the luxury complex where Mark David Chapman had gunned down Lennon, was filled with scores of quiet, sobbing people. Stunned couples embraced, strangers shared their feelings. Flowers, candles, notes and photos of Lennon were everywhere.
Before the vigil in Central Park, Lennon's music was playing. Songs from his just released Double Fantasy album reminded everyone that he was poised for yet another musical phase. A large photograph of him wearing his "New York City" T-shirt was set up on the stage of the band shell. People of all ages had gathered, a tribute to the universal appeal of the Beatles and Lennon.
No one said much as we slowly found a spot beneath a large tree that had shed its leaves for winter. Everyone was bundled against the cold. People stared at the ground, still in shock. When the Beatles anthem All You Need Is Love played, we managed half-smiles and sang along. Many flashed peace signs.
Then it was time for silence. TV news helicopters provided the only interruption.
After 10 minutes, which seemed more like half an hour, the opening piano chords of Imagine began and we started crying.
My friends and I grieved for Lennon, and for the first chink in the armor of our "forever-young" generation. The Beatles - and the baby boomers - were mortal after all.
FileSonic
:
Part 1
Part 2
Part 3
Part 4
Part 5
Part 6
Part 7
Part 8
Part 9
Part 10
Part 11
Part 12
Part 13
Part 14
Part 15
Part 16
Part 17
Part 18
Part 19
Part 20
Part 21
Part 22
Part 23
Part 24
Part 25
Part 26
Part 27
Part 28
Part 29
FileServe
:
Part 1
Part 2
Part 3
Part 4
Part 5
Part 6
Part 7
Part 8
Part 9
Part 10
Part 11
Part 12
Part 13
Part 14
Part 15
Part 16
Part 17
Part 18
Part 19
Part 20
Part 21
Part 22
Part 23
Part 24
Part 25
Part 26
Part 27
Part 28
Part 29
HotFile
:
Part 1
Part 2
Part 3
Part 4
Part 5
Part 6
Part 7
Part 8
Part 9
Part 10
Part 11
Part 12
Part 13
Part 14
Part 15
Part 16
Part 17
Part 18
Part 19
Part 20
Part 21
Part 22
Part 23
Part 24
Part 25
Part 26
Part 27
Part 28
Part 29
UniBytes
:
Part 1
Part 2
Part 3
Part 4
Part 5
Part 6
Part 7
Part 8
Part 9
Part 10
Part 11
Part 12
Part 13
Part 14
Part 15
Part 16
Part 17
Part 18
Part 19
Part 20
Part 21
Part 22
Part 23
Part 24
Part 25
Part 26
Part 27
Part 28
Part 29
UploadStation
:
Part 1
Part 2
Part 3
Part 4
Part 5
Part 6
Part 7
Part 8
Part 9
Part 10
Part 11
Part 12
Part 13
Part 14
Part 15
Part 16
Part 17
Part 18
Part 19
Part 20
Part 21
Part 22
Part 23
Part 24
Part 25
Part 26
Part 27
Part 28
Part 29
FilePost
:
Part 1
Part 2
Part 3
Part 4
Part 5
Part 6
Part 7
Part 8
Part 9
Part 10
Part 11
Part 12
Part 13
Part 14
Part 15
Part 16
Part 17
Part 18
Part 19
Part 20
Part 21
Part 22
Part 23
Part 24
Part 25
Part 26
Part 27
Part 28
Part 29