Discussion Starter
·
#1
·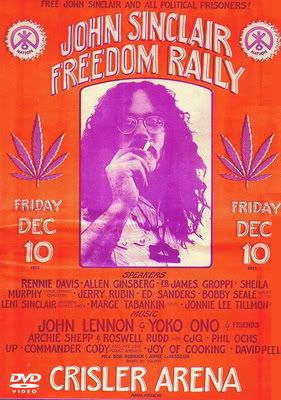 Publisher:
MCP
Reference:
MCP-046
Date:
2007
Artwork
: Click on the poster to enlarge
Video: NTSC 4:3, 720x480, 29.97 fps, 6000 Kbps
Audio: MPEG-2, 2 channels, 48 KHz, 384 Kbps
John Sinclair (born October 2,1941 in Flint, Michigan), was a Detroit poet, one-time manager of the band MC5, and leader of the White Panther Party from November 1968 to July 1969. He was jailed in 1969 after selling two joints of marijuana to undercover narcotics officers. His case received international attention when on December 10,1971, John Lennon and Yoko Ono headlined the "Free John Now Rally" in front of 15-20,000 people at Crisler Arena in Ann Arbor, Michigan. Lennon performed the song, "John Sinclair," calling on the authorities to "Let him be, set him free, Let him be like you and me."
Three days after the concert, the Michigan Supreme Court released Sinclair, and later over-turned his conviction.
Ten For Two and Concert For Bangladesh occurred only about four months apart but what a tremendous difference.
The Ten For Two features John Lennon at his most polemic. The speakers in the rally, Father James Groppi, Bobby Seale and Jerry Rubin, are quite extreme and make some inflammatory statements (Groppi comparing Nixon to Hitler is a bit much to take). The music is a mixed bag too. It's obvious Allan Gingsberg can't sing, and I'm not sure about some of the minor acts like The Up either. A young Bob Segar plays a great version of "Carol" and there is a rare performance by Phil Ochs (several years before his suicide).
The whole interest in the film is John Lennon of course, and his set consists of four songs (three really with one Yoko song). He sounds very raw and unrehearsed, even reading the lyrics off of a music stand. But his charisma comes through very strong, being able to hold the entire arena by just his very presence.
01. The Up
02. Allen Ginsberg with Gary Williamson
03. Ed Sanders
04. Bob Seger with Teagarden & Vanwinkle
05. Father James Groppi
06. Teagarden & Vanwinkle
07. Bobby Seale
08. Phil Ochs
09. Rennie Davis & Dave Dellinger
10. Archie Shepp & Rosweil Rudd with Contemporary Jazz Quintet
11. News Film
12. Commander Cody and The Lost Planet Airman
13. Leni Sinclair and Elsie Sinclair
14. Stevie Wonder & The Wonderlove
15. Jerry Rubin
16. David Peel & The Lower East Side
17. John Lennon & Yoko Ono with Plastic Ono Lower East Side
- Attica State
- The Luck of the Irish
- Sisters O Sisters
- John Sinclair
18. Epilogue
FileSonic
:
Part 1
Part 2
Part 3
Part 4
Part 5
Part 6
Part 7
Part 8
Part 9
Part 10
Part 11
Part 12
Part 13
Part 14
Part 15
Part 16
FileServe
:
Part 1
Part 2
Part 3
Part 4
Part 5
Part 6
Part 7
Part 8
Part 9
Part 10
Part 11
Part 12
Part 13
Part 14
Part 15
Part 16
HotFile
:
Part 1
Part 2
Part 3
Part 4
Part 5
Part 6
Part 7
Part 8
Part 9
Part 10
Part 11
Part 12
Part 13
Part 14
Part 15
Part 16
UniBytes
:
Part 1
Part 2
Part 3
Part 4
Part 5
Part 6
Part 7
Part 8
Part 9
Part 10
Part 11
Part 12
Part 13
Part 14
Part 15
Part 16
UploadStation
:
Part 1
Part 2
Part 3
Part 4
Part 5
Part 6
Part 7
Part 8
Part 9
Part 10
Part 11
Part 12
Part 13
Part 14
Part 15
Part 16
FilePost
:
Part 1
Part 2
Part 3
Part 4
Part 5
Part 6
Part 7
Part 8
Part 9
Part 10
Part 11
Part 12
Part 13
Part 14
Part 15
Part 16