Discussion Starter
·
#1
·
KISS
1996
1st Show of the Reunion Tour
Tiger Stadium in Detroit, MI
Audio Quality:
8.5/10
File Type:
MP3
Recording Type:
Audience
Gene Simmons - Paul Stanley - Ace Frehley - Peter Criss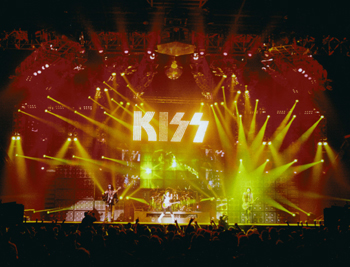 Been a while since my last post. Oh well. This one's worth the wait.
I got this in a trade and kept it all to myself for a while cause it's just so awesome. The first KISS show with all the original members since 1979. And unlike the hacked-up KISSOLOGY version, this is the real deal. This is the full show. This is what you want to download right now.
The band isn't exactly at it's peak (they'd been together for about three weeks at this time), and they almost stop in the middle of Deuce from a combination of errors from peter and Ace. But it doesn't matter. You're getting a rare show with a lot of rare tracks such as Strutter, Rock Bottom, and 2,000 Man, which they rarely played on this tour.
It's an audience recording, like most rare bootlegs are, but this one's excellent. The crowd noise is perfect, and the band sounds just right. It's cool to hear the crowd singing along to nearly every song.
TRACK LISTING
01 - Deuce
02 - King of the Night Time World
03 - Do You Love Me
04 - Calling Dr Love
05 - Cold Gin
06 - Christeen Sixteen
07 - Love Gun
08 - Shout It Out Loud
09 - Watchin' You
10 - Firehouse
11 - 2000 Man
12 - Strutter
13 - Shock Me
14 - Ace's Guitar Solo
15 - Rock Bottom
16 - Gene's Bass Solo
17 - God Of Thunder
18 - Peter's Drum Solo
19 - New York Groove
20 - Let Me Go, Rock and Roll
21 - 100,000 Years
22 - Rock and Roll All Nite
23 - Beth
24 - Detroit Rock City
25 - Black Diamond
26 - Fireworks Finale
http://www.megaupload.com/?d=AJBZNJMD