Discussion Starter
·
#1
·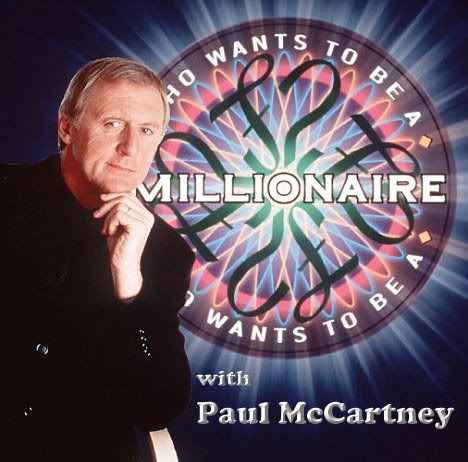 Publisher:
Small Bogie Records
Reference:
No
Date:
2005
Source
: Trade (DVD-R) -> Re-authoring (with creating animated menu, chapters, etc.) -> DVD-R -> DVDDecrypter (log included) -> Here
Artwork
: No
Video:
PAL 16:9, 720x576, 25 fps, 9200 Kbps
Audio:
MPEG-1, 2 channels, 48 kHz, 192 Kbps
TV hosts Richard and Judy defeated Paul and Heather McCartney in the celebrity special of "Who Wants to be a Millionaire "- winning 64,000 pounds ($123,289) for charity. Paul and Heather Mills McCartney won 32,000 pounds ($61,645) for Adopt-a-Minefield after sitting on the hotseat.
After appearing on the Christmas Eve show, the former Beatle and his wife reappeared on the Christmas Day program to face the 32,000 pounds question with no lifelines remaining.
They failed on the 64,000 pounds question: "B is the symbol for which element?" With a choice of Barium, Bromine, Boron and Bismuth, the couple gambled on Barium, but the correct answer was Boron.
FileSonic
:
Part 1
Part 2
Part 3
Part 4
Part 5
Part 6
Part 7
FileServe
:
Part 1
Part 2
Part 3
Part 4
Part 5
Part 6
Part 7
HotFile
:
Part 1
Part 2
Part 3
Part 4
Part 5
Part 6
Part 7
UniBytes
:
Part 1
Part 2
Part 3
Part 4
Part 5
Part 6
Part 7
UploadStation
:
Part 1
Part 2
Part 3
Part 4
Part 5
Part 6
Part 7