Discussion Starter
•
#1
•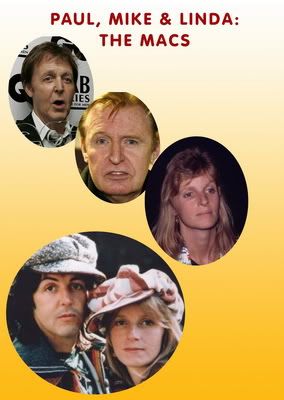 Publisher:
MCP
Reference:
MCP-098
Date:
2007
Artwork
: Click on the poster to enlarge
Video: NTSC 4:3, 720x480, 29.97 fps, 8000 Kbps
Audio: AC-3, 2 channels, 48 KHz, 224 Kbps
The first piece on this DVD is a 60 minute home video shot on the way to, and at, the wedding reception of Mike McCartney. (If you get terribly bored you can skip to the second chapter, which is puts you around halfway, when Paul finally appears.)
Next are two UK TV appearances of Mike Mac: "Saturday Superstore" and "Weekend"
Then we have an excerpt from a UK TV show titled "Bread" with an appearance by Linda and a cameo by Paul.
And last, is Paul's interview from the UK TV show "Pop World" on June 23, 2007.
If you are concerned about video quality, I highly advise that you do not download this (my quality control department is currently on a safari).
FileSonic
:
Part 1
Part 2
Part 3
Part 4
Part 5
Part 6
Part 7
Part 8
Part 9
Part 10
Part 11
Part 12
Part 13
Part 14
Part 15
Part 16
Part 17
FileServe
:
Part 1
Part 2
Part 3
Part 4
Part 5
Part 6
Part 7
Part 8
Part 9
Part 10
Part 11
Part 12
Part 13
Part 14
Part 15
Part 16
Part 17
HotFile
:
Part 1
Part 2
Part 3
Part 4
Part 5
Part 6
Part 7
Part 8
Part 9
Part 10
Part 11
Part 12
Part 13
Part 14
Part 15
Part 16
Part 17
UniBytes
:
Part 1
Part 2
Part 3
Part 4
Part 5
Part 6
Part 7
Part 8
Part 9
Part 10
Part 11
Part 12
Part 13
Part 14
Part 15
Part 16
Part 17
UploadStation
:
Part 1
Part 2
Part 3
Part 4
Part 5
Part 6
Part 7
Part 8
Part 9
Part 10
Part 11
Part 12
Part 13
Part 14
Part 15
Part 16
Part 17
FilePost
:
Part 1
Part 2
Part 3
Part 4
Part 5
Part 6
Part 7
Part 8
Part 9
Part 10
Part 11
Part 12
Part 13
Part 14
Part 15
Part 16
Part 17