Discussion Starter
·
#1
·
found this on a forum whose native tounge i dont understand: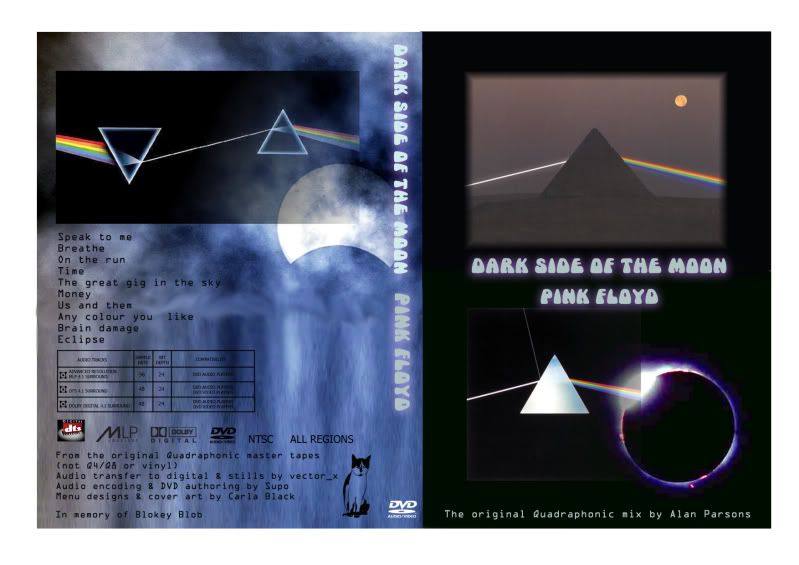 This is the real deal. not the usual Q8 or SQ versions with all their limitations (limited bandwidth on the Q8, Matrixed surround on the SQ etc) but a genuine transfer from the original master tapes.

Finally you can hear Alan Parsons mix as it was always intended to be heard in studio quality audio. The only "liberty" we have taken here is an additional .1 track. You can make up your own mind as to whether or not it is a worthwhile addition.


It also features all new artwork in both sections specially created for this DVD-Audio release.




The disc will play on all DVD players, as it is a DVD-Audio/Video "hybrid" containing the following:

Audio_TS
MLP Lossless at 24/96 Resolution in 4.1

Video_TS
DTS from 24/48 Source files
Dolby Digital from 24/48 Source files



Additionally, it is possible to play both the lossy streams from DVD-Audio players. Each type has it's own menus. What you can access is dependant entirely on your player.

All Authoring, Encoding, Post Production and design is exclusive to this release.



FEEL FREE TO DISTRIBUTE THIS DISC TO OTHERS, BUT ALWAYS "AS IS" AND IN FULL.
PLEASE DO NOT RIP AND REPOST IN ANY OTHER FORMAT. THERE IS NO NEED AS ALL DVD PLAYERS CAN READ THIS DISC,
AND DOING SO WILL DEPRIVE OTHERS OF THE FULL HIGH RESOLUTION FORMATS USED.
ADDITIONALLY, RIPPING TO DTS-CD WILL INVOLVE QUALITY LOSS DUE TO DOWNSAMPLING, AND WILL
REDUCE THE LISTENING PLEASURE FOR OTHERS.


this beast clocks in at 3.46gb with 6 files, living on Megaupload.
part1
part2
part3
part4
part5
part6
the forum i mentioned is
this one
.