Discussion Starter
·
#1
·
Cleaning up some Stones and started filling in holes in my collection.
Will share them with you as I go.....
THE ROLLING STONES -
Forest Nationale, Brussels, Belgium;
October 17, 1973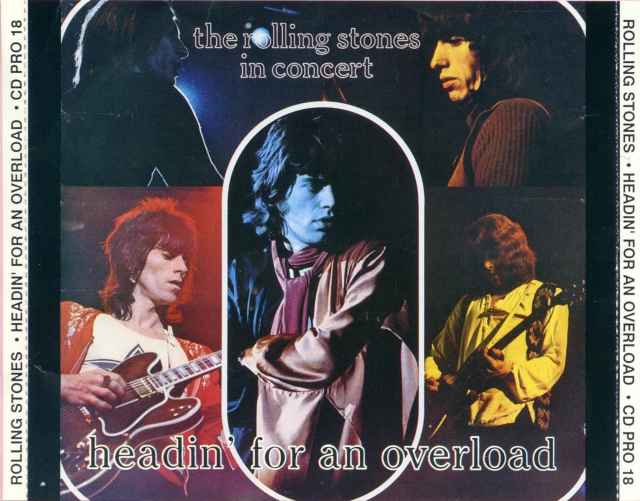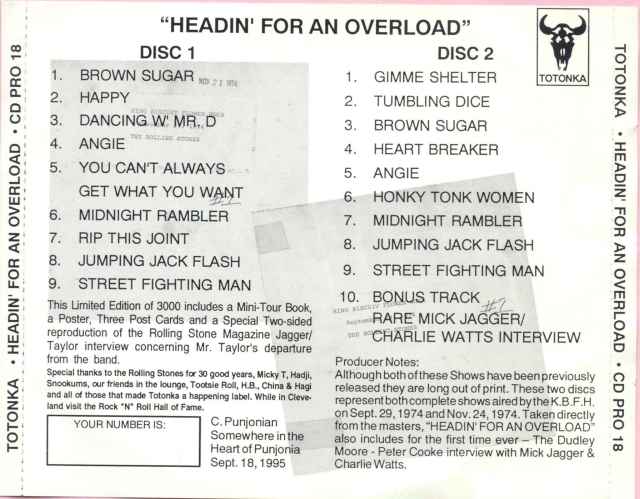 (1st show)
"HEADING FOR AN OVERLOAD"
Totonka (CD PRO 18)
2 CD-Set
Disc 1:
1) Brown Sugar
2) Happy
3) Dancing With Mr. D
4) Angie
5) You Can't Always Get What You Want
6) Midnight Rambler
7) Rip This Joint
8) Jumping Jack Flash
9) Street Fighting Man
Disc 2:
1) Gimme Shelter
2) Tumbling Dice
3) Brown Sugar
4) Heart Breaker
5) Angie
6) Honky Tonk Woman
7) Midnight Rambler
8) Jumping Jack Flash
9) Street Fighting Man
10) Bonus Track: Rare Mick Jagger/Charlie Watts Interview
October 17, 1973 (Brussels - disc 1) and September 9, 1973 (London - disc 2). Excellent Soundboard.
From the Producer Notes:
"Although both these shows have been previously released they are long, long out of print. These two discs represent both complete shows aired by KBFH on September 29, 1974 and November 24, 1974. Taken directly from the masters, "Heading for an Overload" also features for the first time ever - the Dudley Moore - Peter Cooke interview with Mick Jagger and Charlie Watts"
The Brussels show is arguably one of the best Rolling Stones show ever, which is to say it's one of the best concerts in the history of rock n' roll. Mick Taylor, 'nuff said. Ripped with EAC from my original silvers.
Please help seed and comments always appreciated.
https://tinyurl.com/y43ydngc
:jam::rimshot::dance:jam: